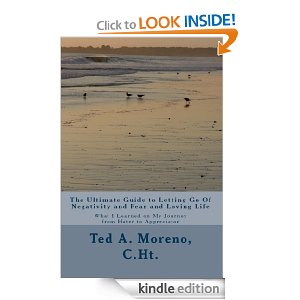 My book "The Ultimate Guide to Letting Go of Negativity and Fear and Loving Life" is now available in Kindle format from Amazon.com! Click here or on the image to order or to take a look inside to preview.  I've actually got three five star reviews.
Also, don't forget, my Self Hypnosis for Success class starts this Saturday (June 30th) from 9 am to 10:30 and continues for the next two Saturdays (July 7th and 14th). You can read about it by clicking here, or why not just register by clicking here?
A subconscious mind is a terrible thing to waste, why not put it to work for you? Hope to see you there.