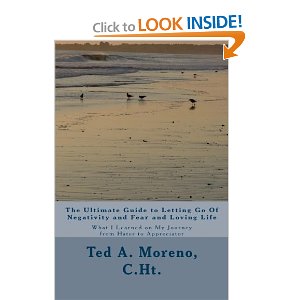 Yes it's true; after a year of writing, revising, editing, periods of major procrastination and ordering proof after proof, I have actually published a book: The Ultimate Guide to Letting Go of Negativity and Fear and Loving Life (What I Learned on My Journey from Hater to Appreciator).
The book is a collection of posts from my blog, Ted's Tips for Transformation.
In my book you'll read about:
How to create deep deep relaxation
The number one thing you should do when you are bummed out
How to program your mind to achieve your goals (so simple you probably won't do it)
That pesky voice in your head and what to do about it
The key to success (the very first step in getting what you want)
How to get what you want simply by asking for it ( I did and I got a Porsche)
Things I learned from my Dad. ("Sometimes you have to forgive or apologize even if you don't want to, don't let pride get in the way.")
How to have lots of energy
How to keep from being a Zombie (I'm sure you've been there, I have…)
The time I was abducted by a depressed alien wearing a Star Wars T-shirt (or did I dream that?)
The hero's journey ( you are the hero!)
How hypnotherapy can help you and much more!
If you like this blog, you'll enjoy my book. You'll find it informative, thought provoking, and sometimes very funny! I'll tell you, if someone gave me this book for a gift, I think I'd be pretty jazzed. (But that's just me.)
If you are interested in buying my book, you can get it at Amazon.com by clicking here, or at Createspace by clicking here. If you do get my book, please let me know, I'd love to hear what you think about it.
Thanks for taking the time to read Ted's Tips for Transformation!
Your companion on the path to transformation,
Ted (TMan)
Ted A. Moreno
Certified Hypnotherapist
Success Performance Coach
  (626) 826-0612